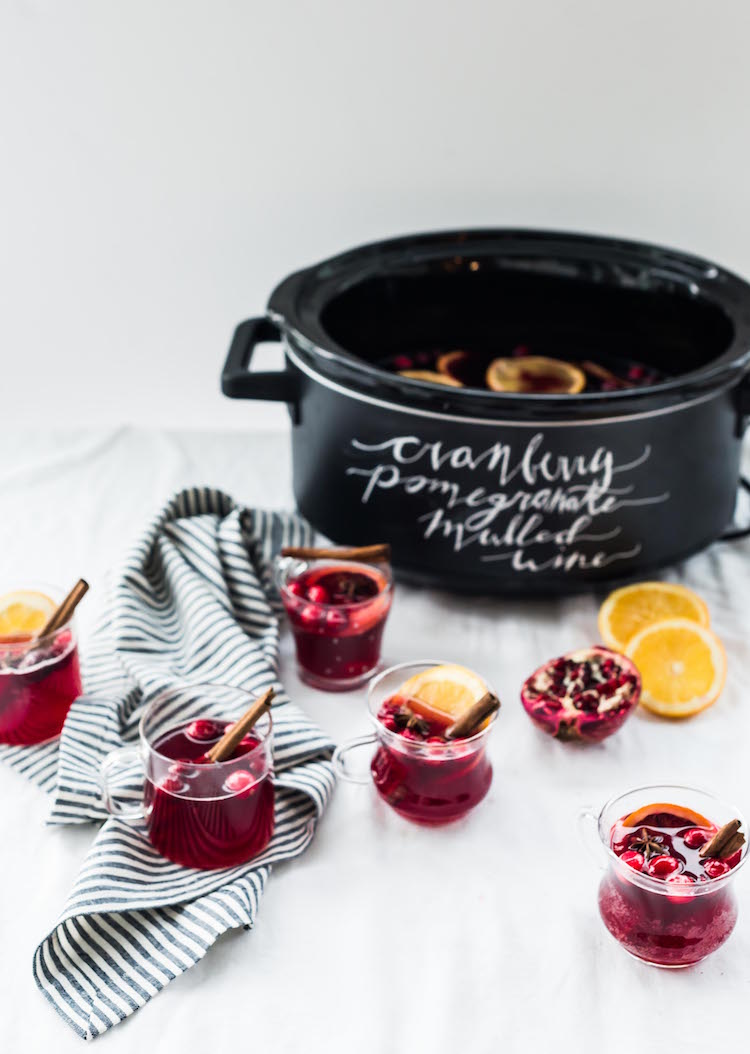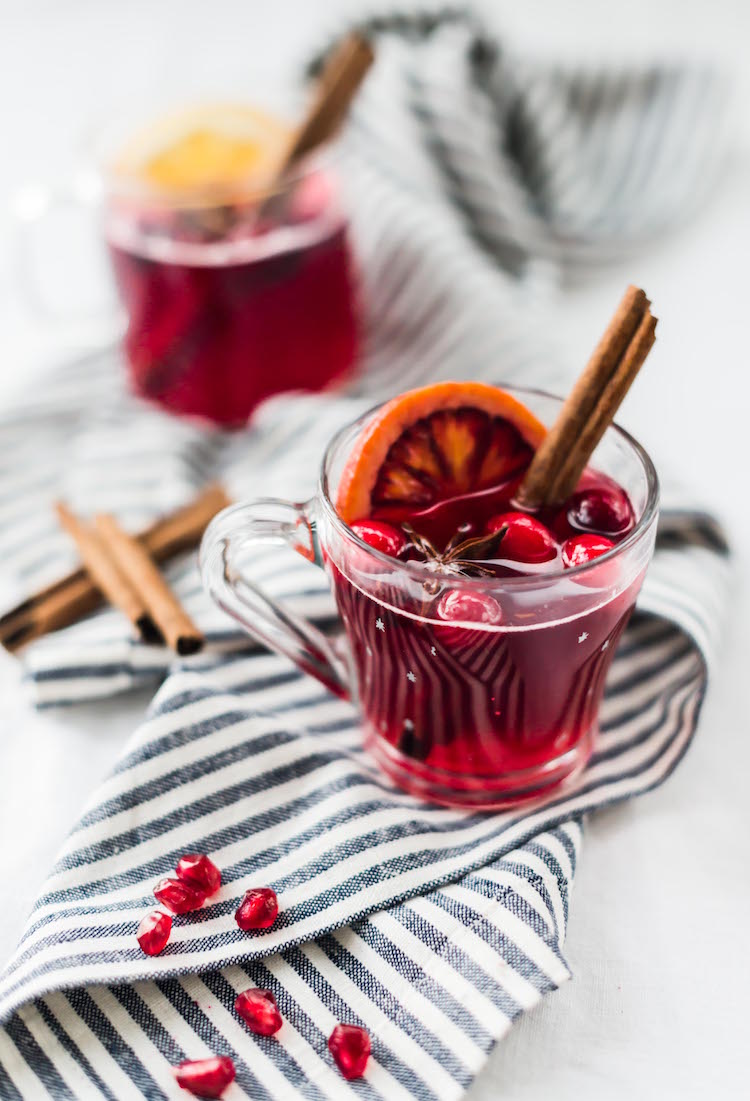 Thanksgiving is around the corner and I have yet to put up a fall cocktail for one of my favorite holidays, I know, shame! I have been entirely too busy working on client projects, going to events, doctors appointments, and working on up coming events, the site has been a little silent. Many apologies. I am about to make it up to you, I swear! Today I have a delicious and easy punch for serving during the holidays: a Cranberry Pomegranate Mulled Wine. I love warm cocktails, but they can be cumbersome while entertaining a lot of people. The stove is usually occupied while cooking or keeping things warm for second helpings (guilty!) and you can microwave only so much at a time. Enter the crockpot! And I think I found the best crockpot! Just how darling is this chalkboard crock pot? It's great to write on the pot for guests to tell whats inside before they open the lid. In this case, boozy mouthwatering apple brandy infused Cranberry Pomegranate Mulled Wine! I also get to bust out my semi-decent calligraphy skills.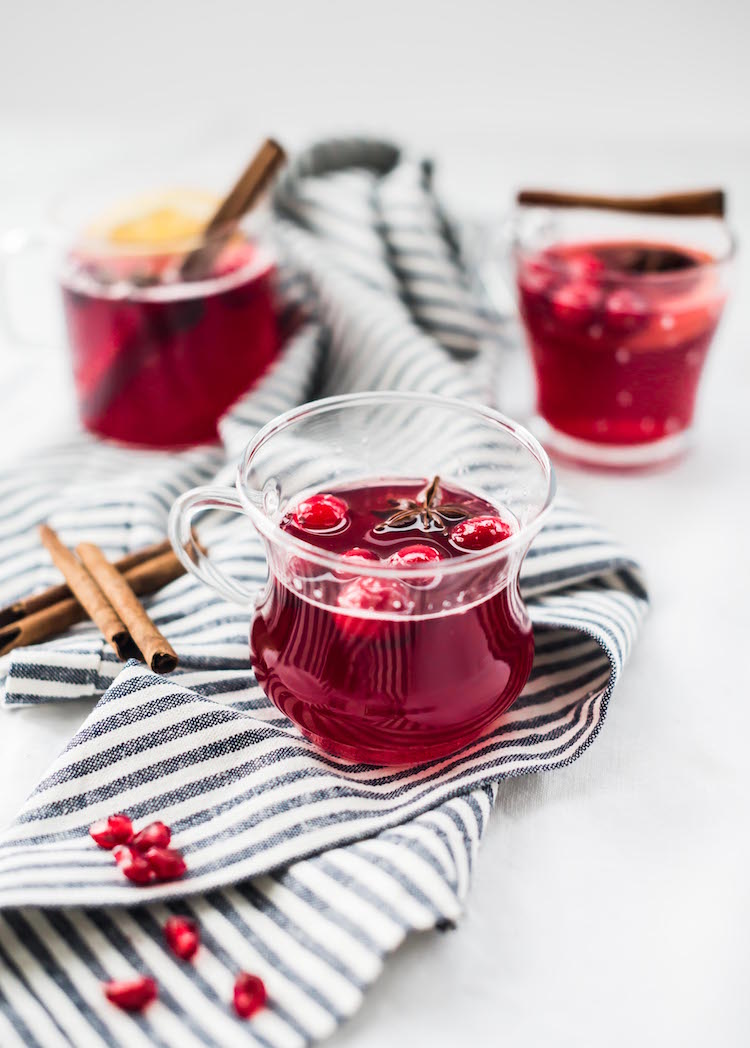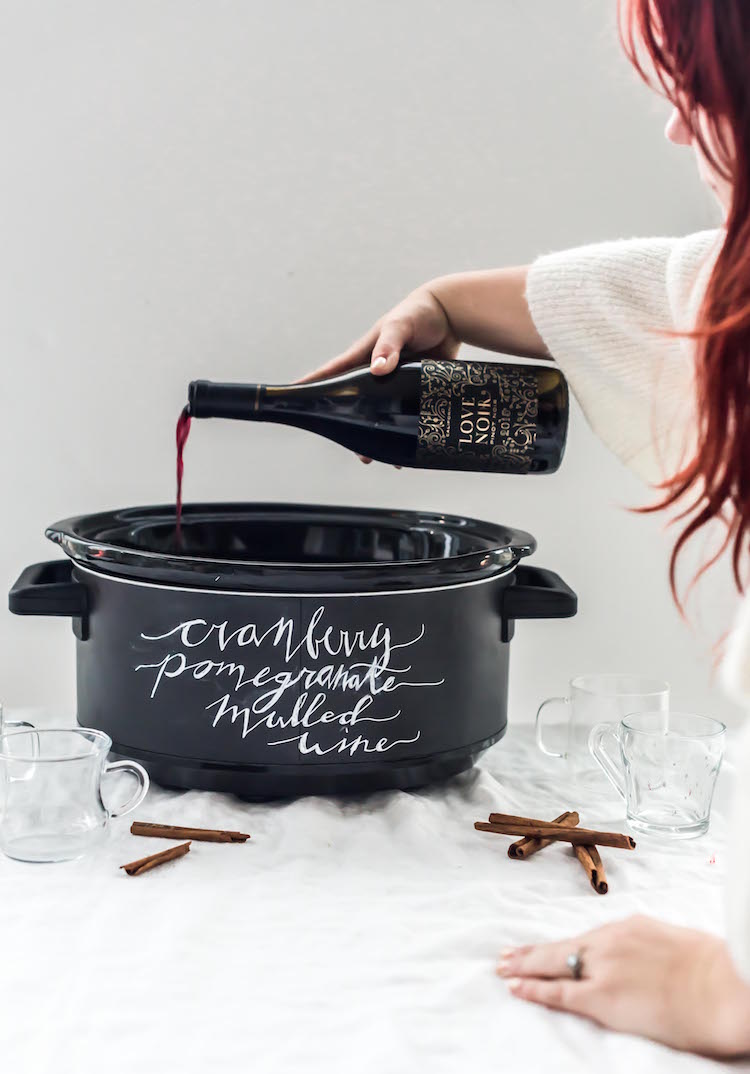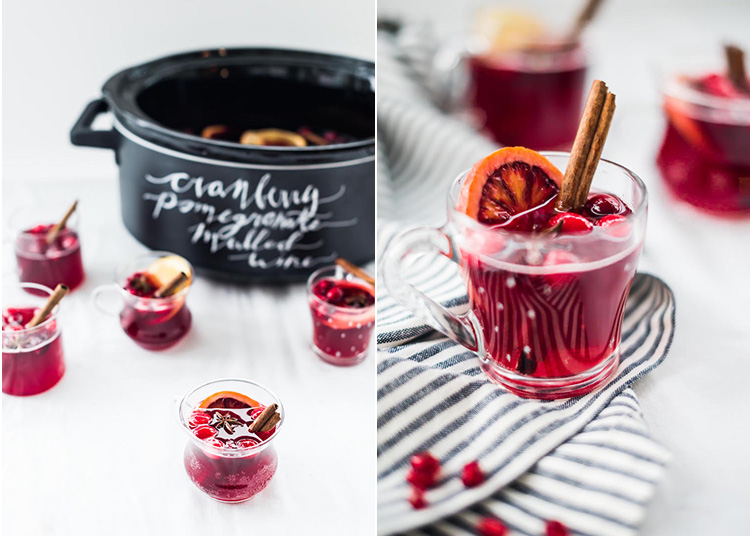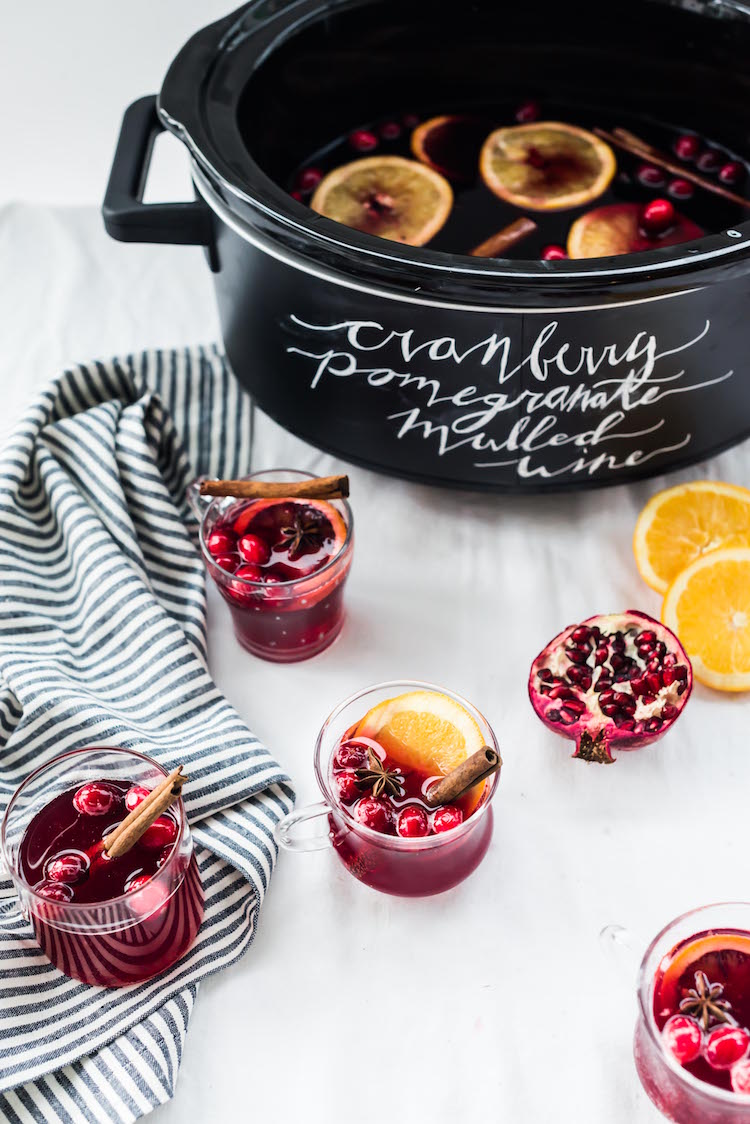 Seriously in love with this crockpot. I plan to be making a ton of crockpot cocktails over the next month. They are a "set it and forget it" kind of drink (remember that weird infomercial from the 90's?!) Set out some punch glasses and a ladle next to the crockpot and let guests serve themselves. It leaves you hands free to deal with bickering family members or a cat in the tree. Talking from experience here, people!
As for the wine for the drink, you'll want to choose a cheaper but not CHEAP wine if you know what I mean. This might be a surprise, but cheap shitty wine will still taste like..cheap shitty wine even in a warm punch. You don't want to choose a top shelf wine or any over $30 really either, the texture and defining flavors will be lost in the warm punch. The pomegranate and cranberry add some lovely tart flavors while the honey rounds it out with an floral, earthy sweetness. And as for the apple brandy? It's a great addition along side red fruit. It also lends some apple flavor with out adding apple juice that would thin out the mulled wine.
Juicing pomegranates are difficult, but are so worth it for the flavor (I have the details on the easiest way to juice them here). If you are able, juice them and strain into the punch. If not, 100% organic pomegranate juice will do nicely as well.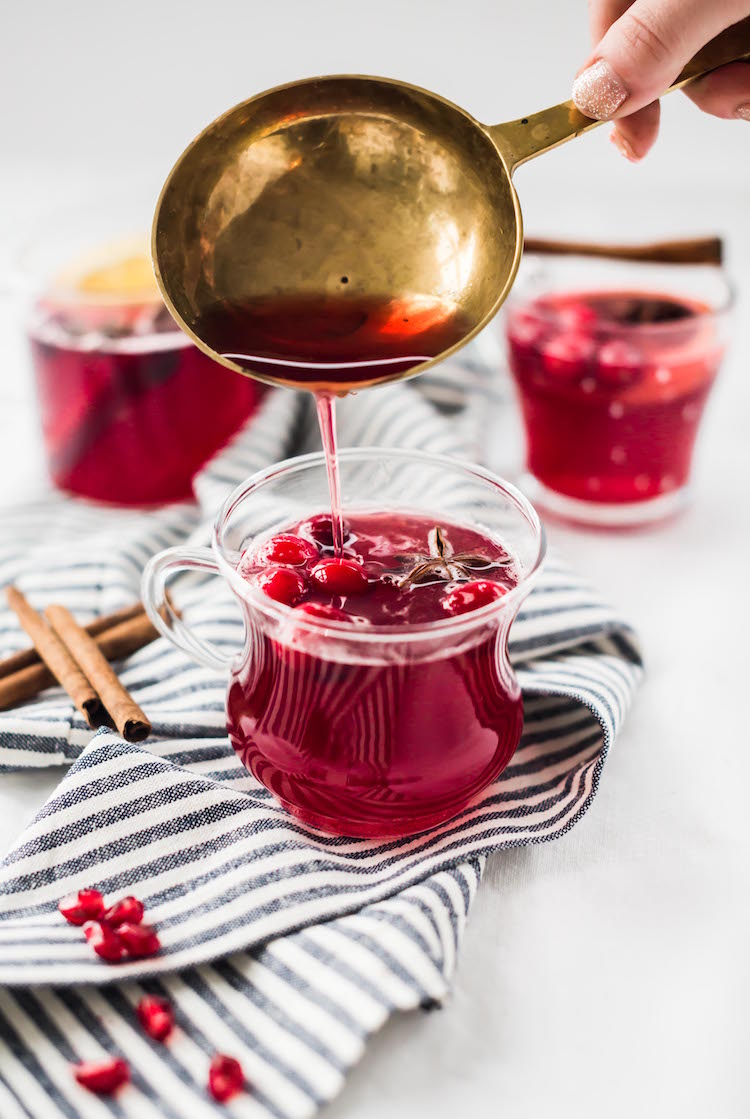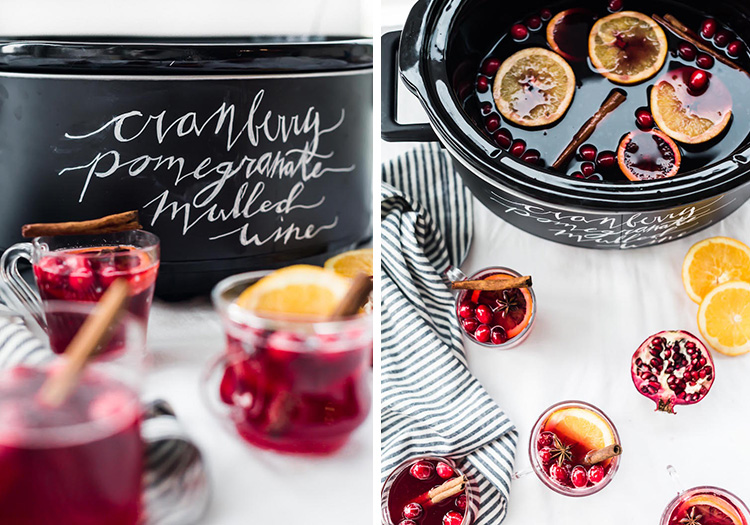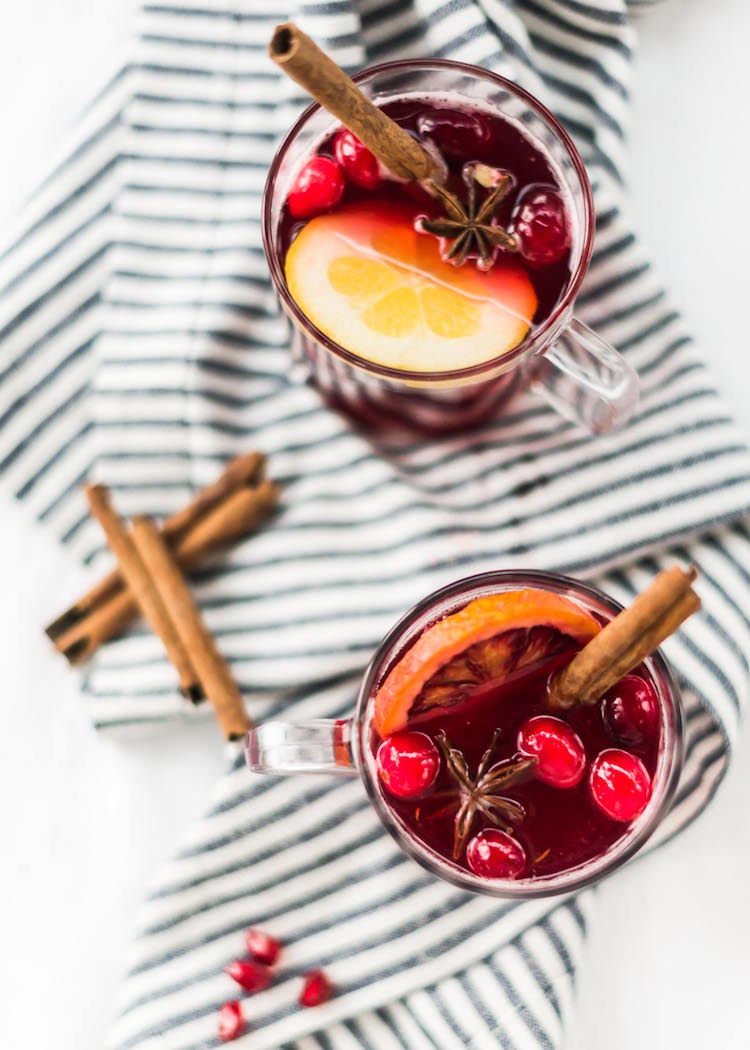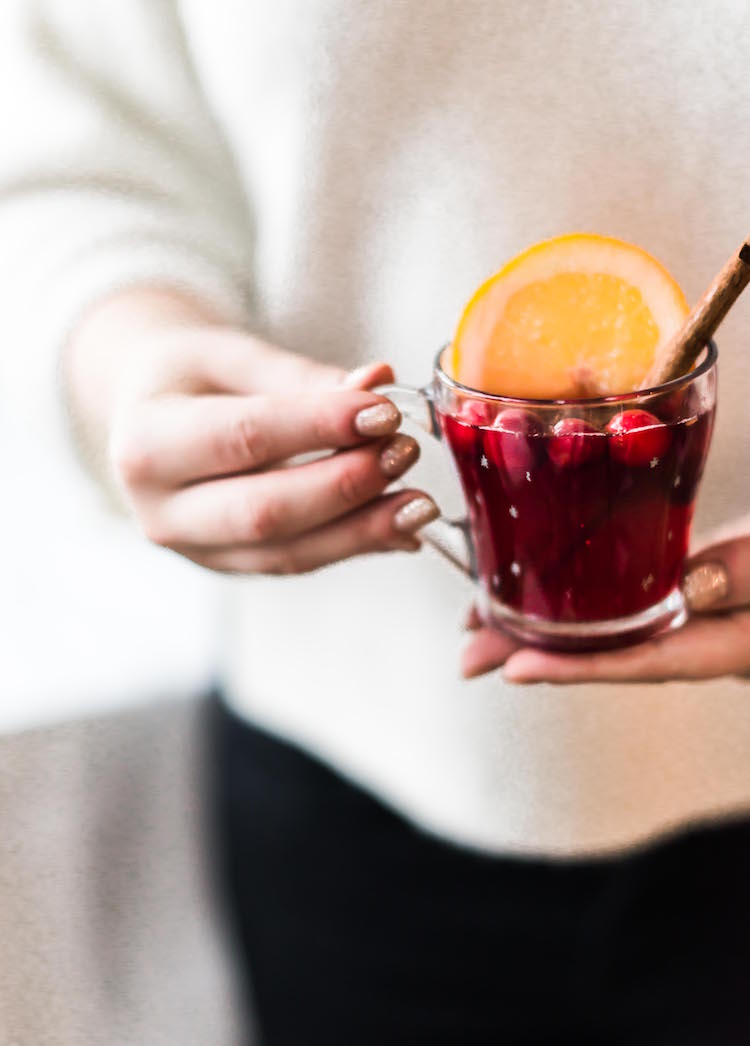 Cranberry Pomegranate Mulled Wine
*serves 8- 8 oz glass
tools: crockpot, knife, measuring cups
1 bottle fruit forward red wine, I used a California pinot noir called Love Noir
16 oz pomegranate juice (fresh squeezed if possible)
8 oz cranberry juice
4 oz apple brandy
4 oz orange juice
4 oz – 6 oz honey
1 orange, sliced
1 apple, sliced
6 star anise
3 cinnamon sticks
1/2 tsp whole cloves about 12
Directions:
Slice oranges thickly. Add cloves into the skin of the oranges. Slice apples. Add all liquid ingredients into the crock pot. Stir well. Add the clove studded orange slices, apples, cinnamon sticks, and star anise. Turn the crockpot to warm. Let heat 1/2 hour- 1 hour before serving. If there are leftovers, add them to a sealed bottle or container and store in the fridge. You don't want to continue heating it for more then a few hours.
*If you are looking to serve more than 8, take this recipe and times it by as many people you intend to serve: 3 oz red wine, 2 oz pomegranate juice, 2 oz cranberry juice, 1/2 oz apple brandy, 1/2 oz orange juice, 1/2 oz honey. If it's doubled, don't forget to double the mulling spices and fruit.