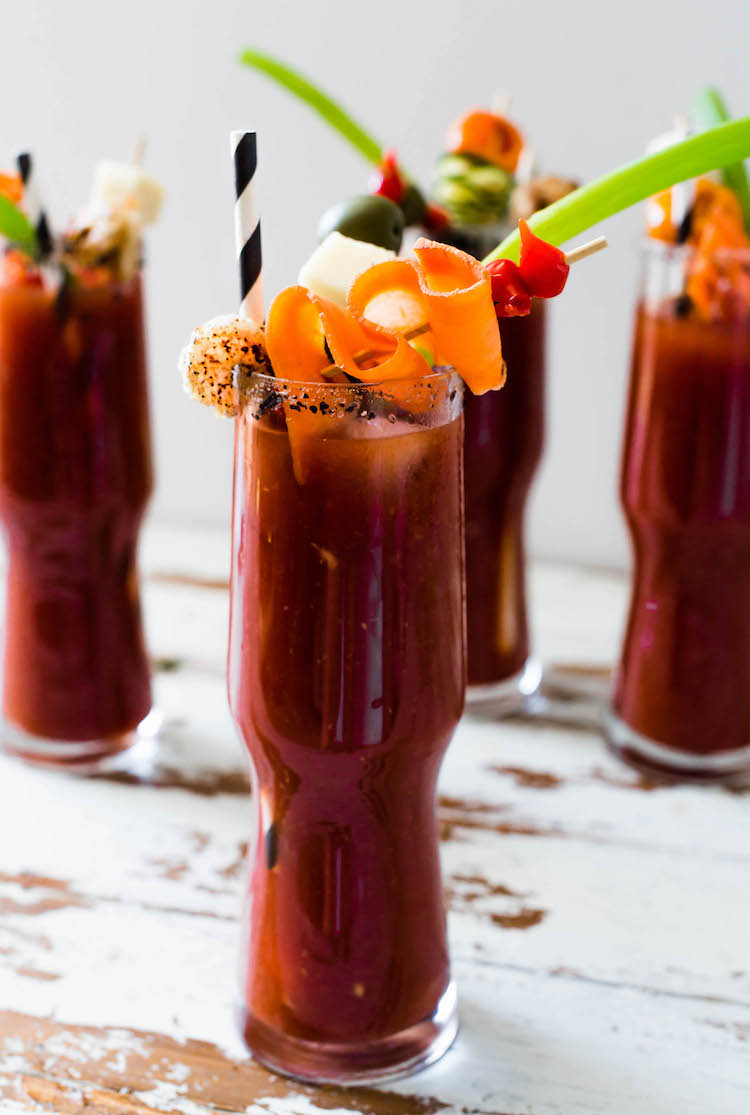 I have a confession to make: I have never been a Bloody Mary fan. I know know, blasphemy! While everyone is sipping their, sometimes over the top, tricked out bloodies at brunch, I have been over here drinking my boring mimosa. Not as fun. This Chipotle Bloody Mary changed my mind!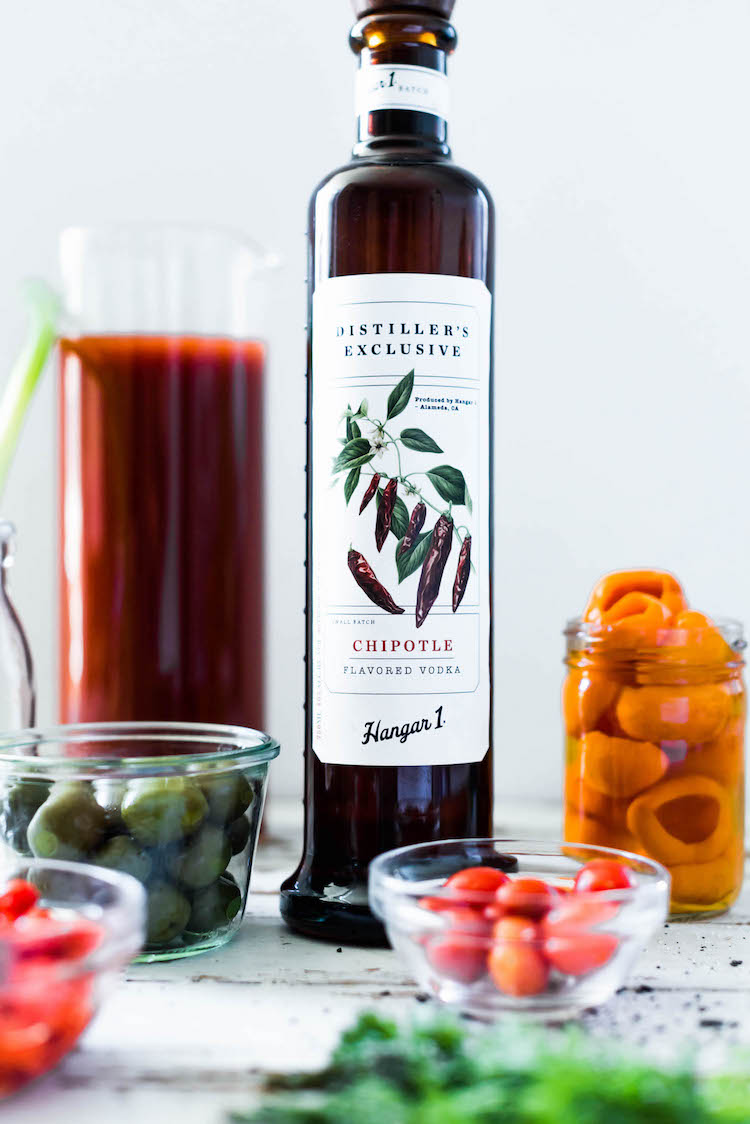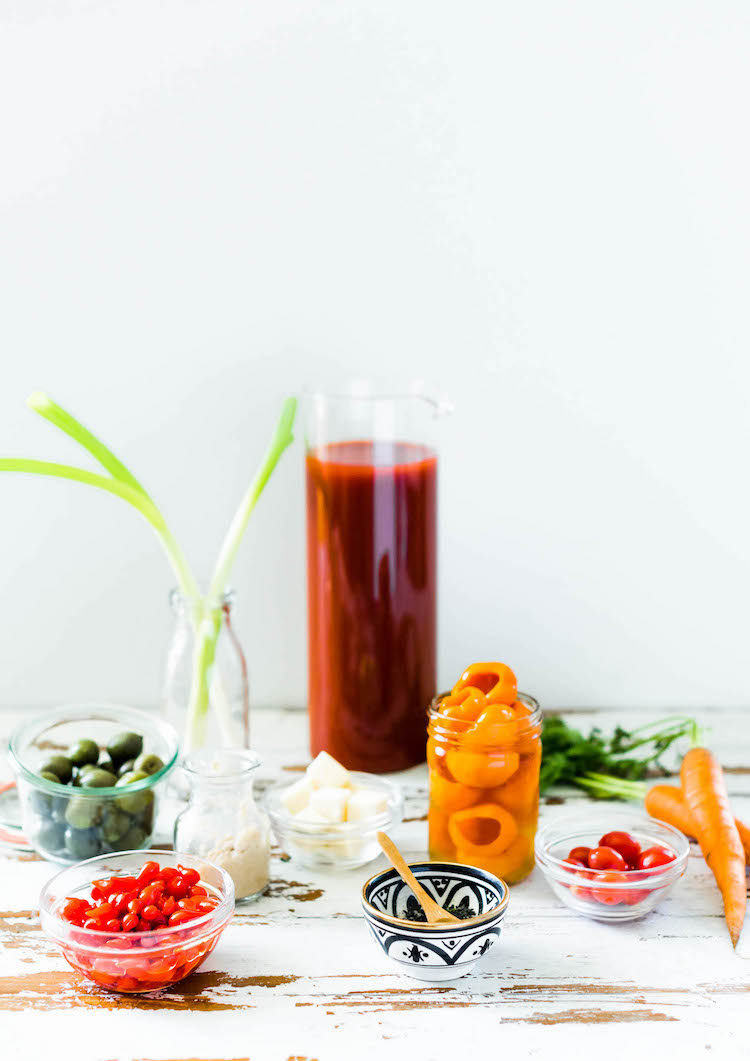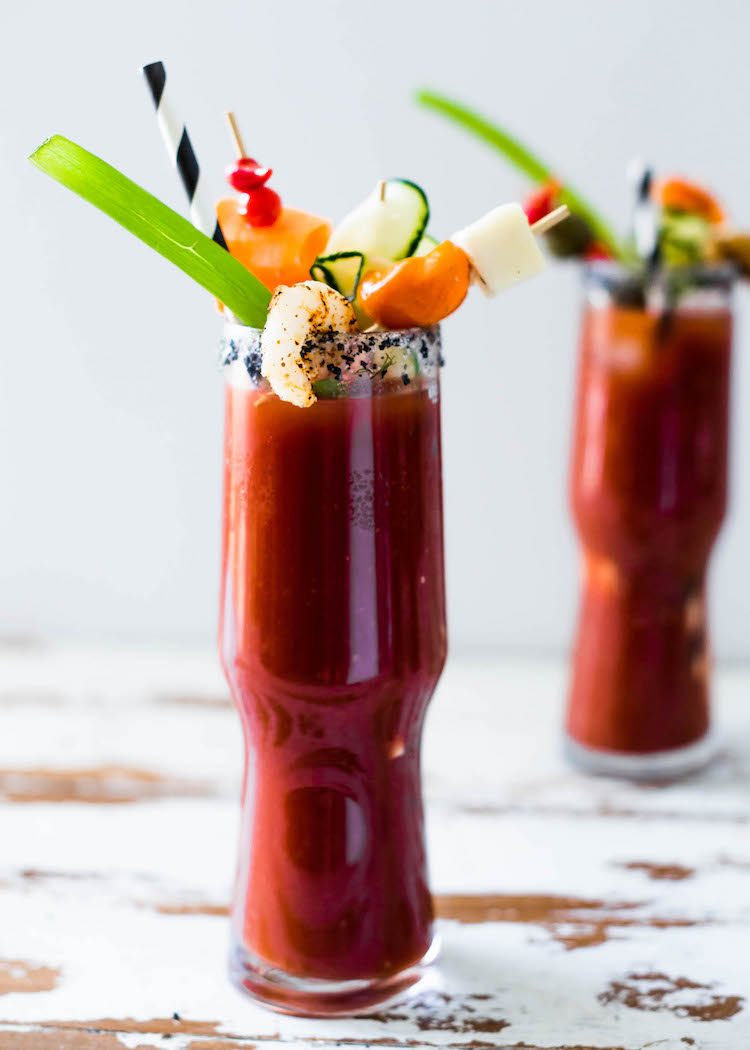 Well, all that has changed! I recently planned a brunch for my friends to celebrate summer. Everyone voted on Bloody Mary's as the cocktail du jour so I set out to make a Bloody Mary even I would love! Turns out a great vodka and a fresh tomato juice is all that it took to turn me into a bloody believer. Hallelujah! These Chipotle Bloody Mary's are what I came up with and they are E V E R Y T H I N G!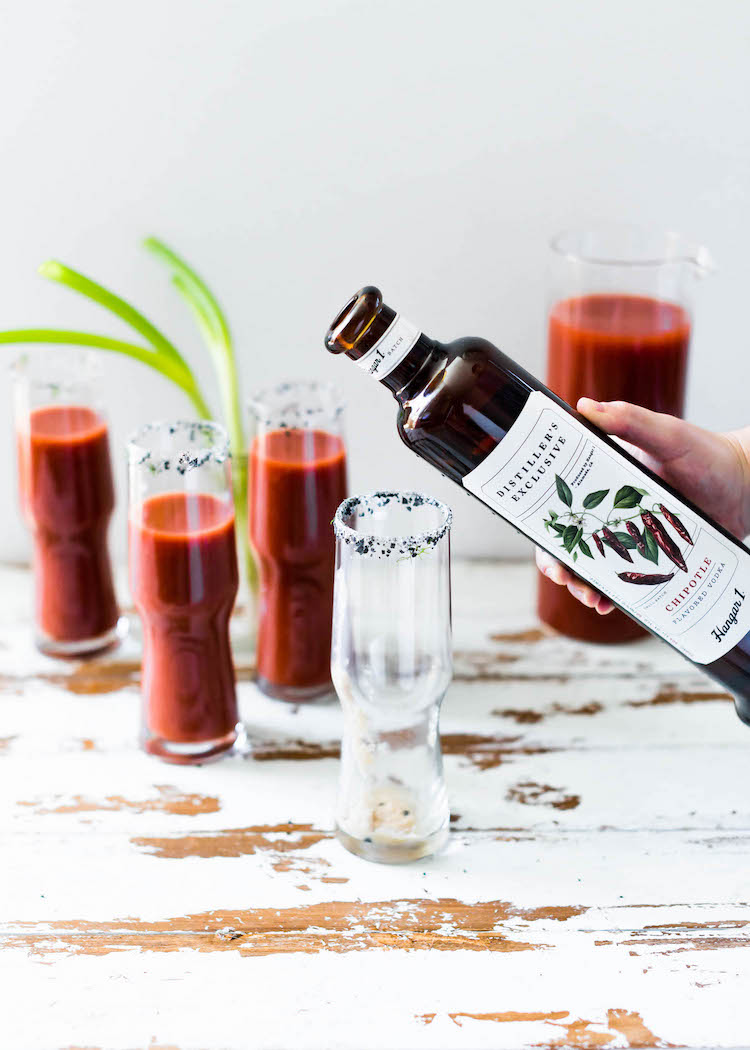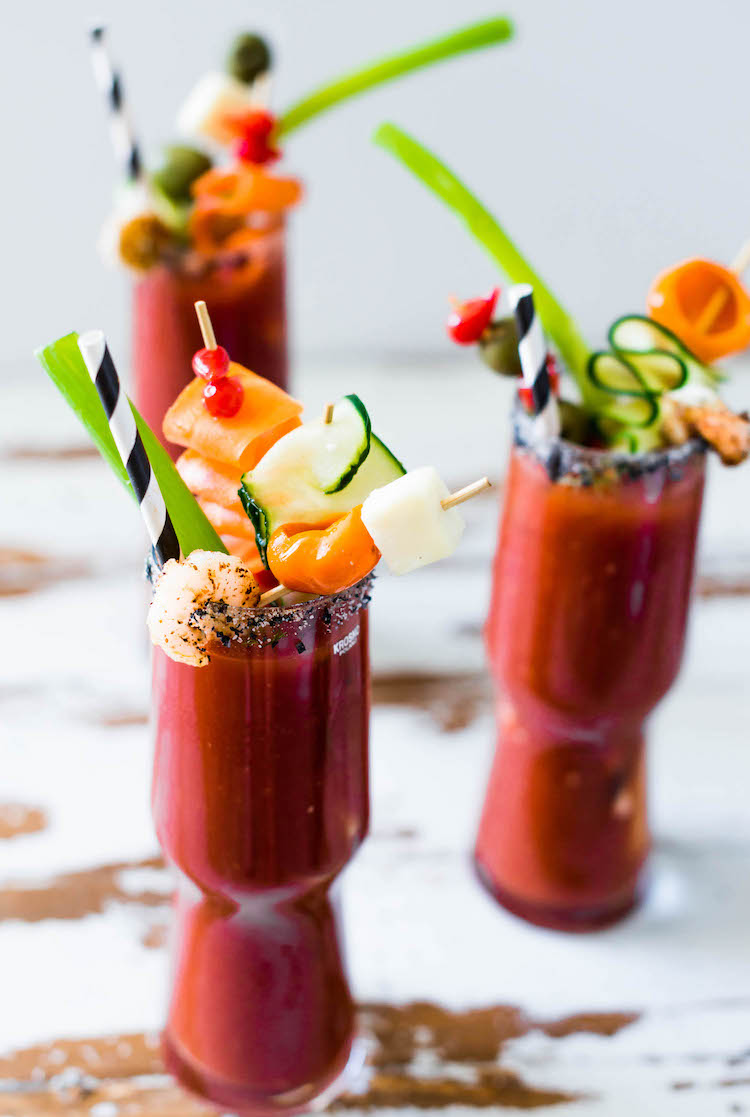 Although we had planned to do it outside el fresco, San Francisco doesn't always participate in summer (it was 50 degrees, foggy, and windy!) So I hosted it in doors. C'est la vie. Good thing for comforting waffles, eggs, bacon, and these Spicy Chipotle Bloody Mary's! They also would be equally sippable on a warm summer day for brunch or a barbecue. For these, I came up with my own tomato juice base which was usually my problem when it came to bloodies. I never found one with fresh enough tomato juice or the right blend of vegetables. I decided to use a combo of fresh organic tomatoes, celery, onion and carrots for some sweetness. It's just the right blend to get me to delightfully slurp down a Bloody Mary, so you know it's good!
I paired it with Hangar 1's JUST released Chipotle Vodka, a Distiller's Exclusive. It is a game CHANGER for Bloody Mary's and savory drinks, ya'll. It adds just the right amount of heat and spice. It's neither in your face or underwhelming, it has perfectly balanced flavor. It is currently only available at the Hangar 1 Distillery, but so so worth the trip across the bay, trust me! So, how to get your hands on a bottle? Book a tour HERE at the Hangar 1 distillery housed in an old hangar (hence the name) on Alameda Island. My favorite way to get there is taking the Alameda ferry over from the SF Ferry Building to the distillery so no one has to drive, everyone gets to taste! Easy peasy. Plus, it's the prettiest way to get there.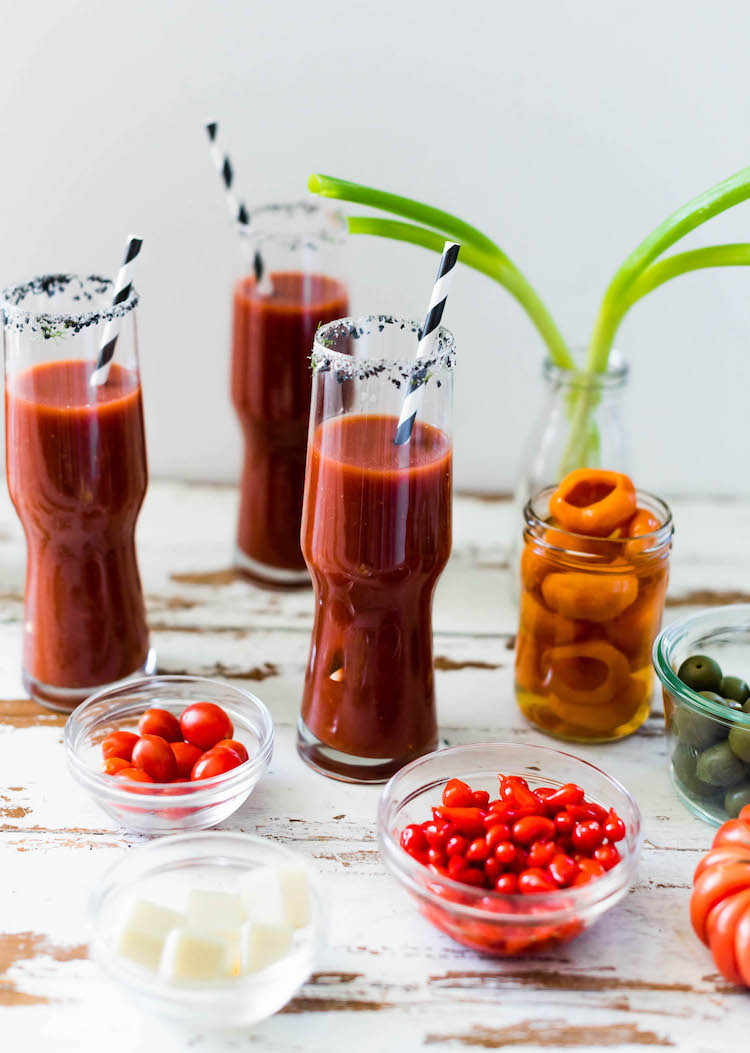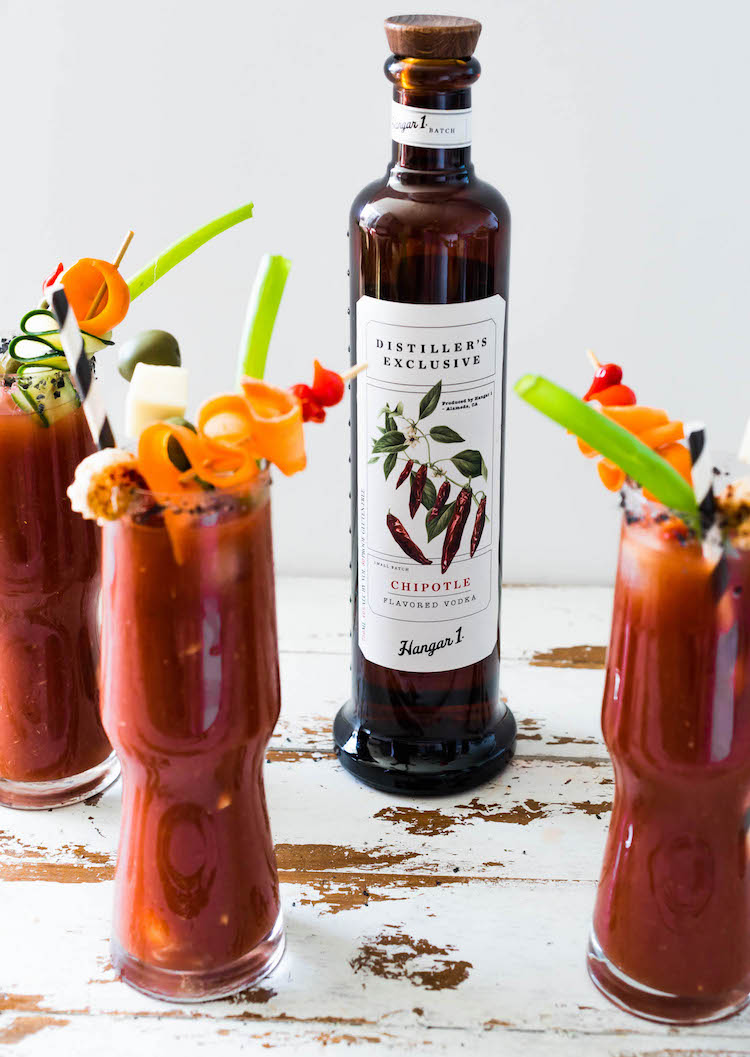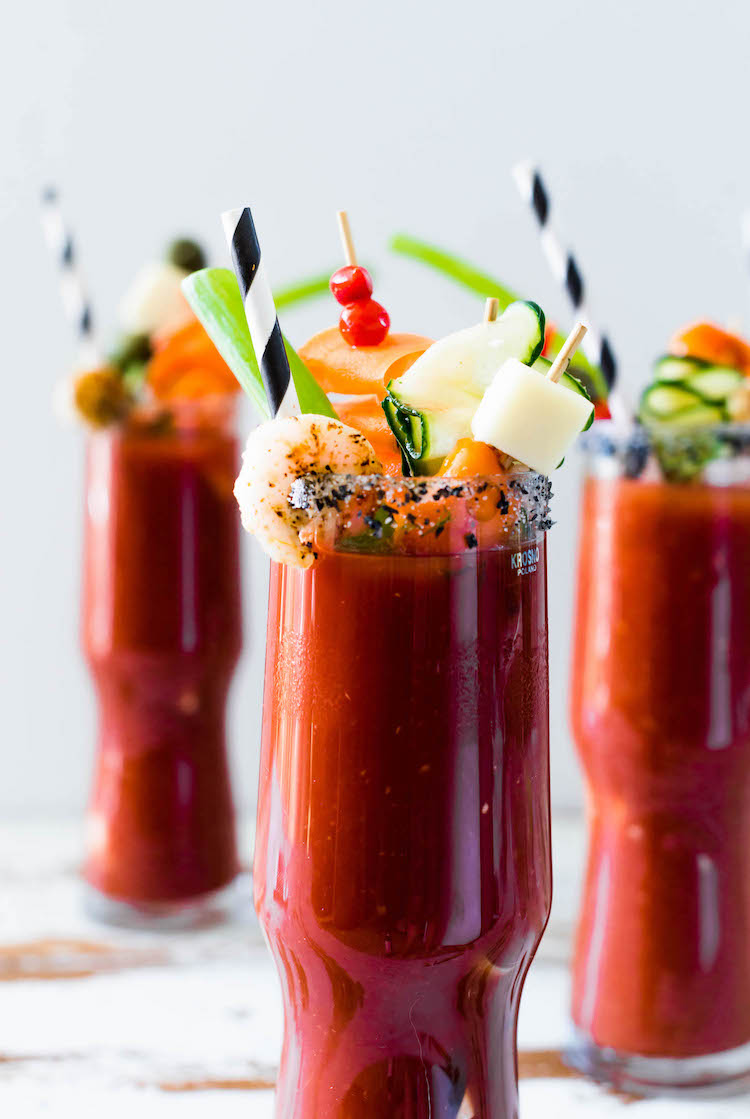 Hangar 1 Chipotle Vodka, just like their Straight Vodka, is distilled from fine wine grapes and grain. They use only natural flavors to yield authentic-tasting vodkas. Their Head Distiller, Caley Shoemaker, produces Distiller Exclusives like the Chipotle Vodka that can only be purchased from the distillery. I love seeing more females taking on the role of distiller and head distiller, and let me tell you Caley is killing it. Along with all the delicious main line-up of vodkas, her Hangar 1 Distiller's Exclusive flavor profiles, like the new Chipotle, are ones you won't find anywhere else. I have been eying this Pink Peppercorn Vodka, which you can pick up too when you visit!
We had a blast and the brunch ended up blending into dinner (I'd like to think the cocktails had something to do with that!). Luckily, the sun eventually came out and we got to hop up to my rooftop, with Chipotle Bloody Mary's in hand, to enjoy the (65-degree heat) and grill out. A brunch that turns into dinner and now I able to claim I am a Bloody Mary lover, I call that a successful brunch!
tools: jigger, shaker, blender, strainer, citrus knife, bar spoon
glassware: highball, collins, or pint glass
6 oz tomato vegetable juice (recipe below)
1 tbsp horseradish
1-2 tsp hot sauce
2 tsp Worcestershire sauce
1 squeeze lemon juice
black sea salt & celery salt rim
Garnishes (these are just suggestions, feel free to use what you want):
olives, cheese cubes, green onions, celery, sweet peppers, cucumber ribbons, carrot
ribbons, basil, spiced shrimp
Add black salt and celery salt to a plate and mix. Run lime wedge around the rim of the
glass and turn glass upside down to coat rim with the salt. Measure Hangar 1 Vodka in a jigger and add it with horseradish, hot sauce, Worcestershire sauce, lemon to the glass. Stir. Add ice. Top
with tomato juice and stir. Garnish to your hearts content!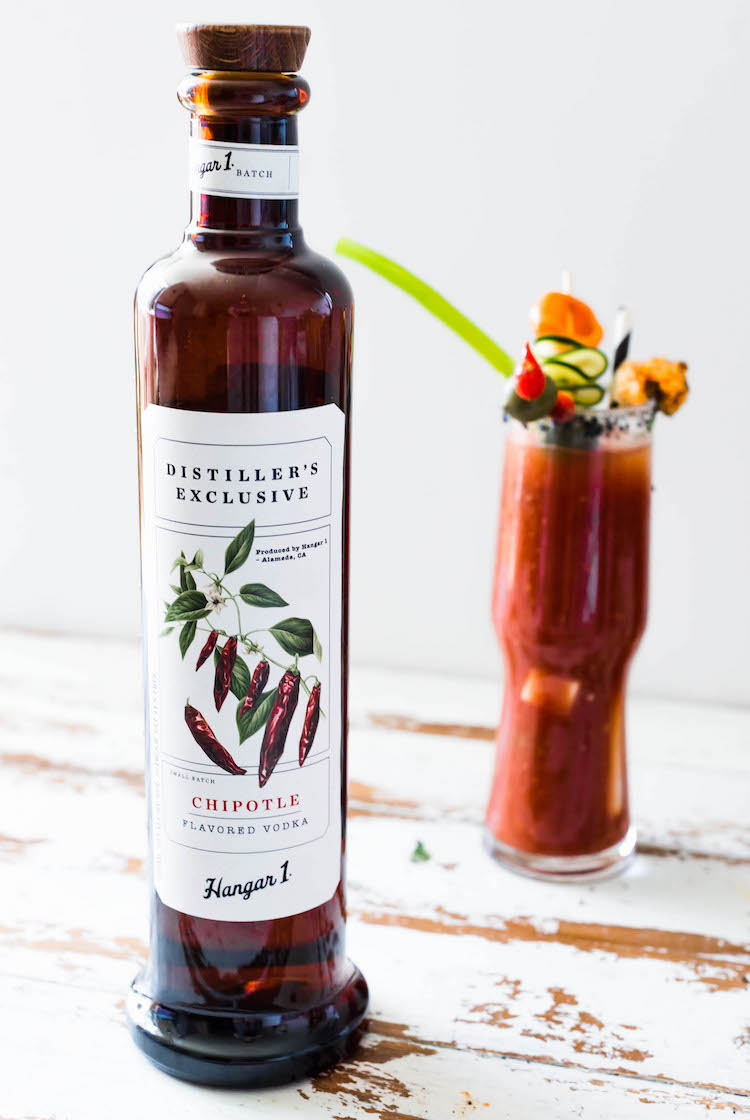 Tomato Vegetable juice
 3 lbs tomatoes
3 celery stalks
1 large carrot
 1/4 of a sweet onion
 2 tbps sugar
A few dashes Black pepper
1 tsp salt
Blend all in a blender or food processor and strain through a fine mesh strainer. Store in
the fridge for 2 days.
This post is sponsored by Hangar 1 Vodka.  All opinions are my own. Thank you for reading and supporting the